Protection of EU Trademarks
Since 1996 it is possible to register a trademark in the whole area of the European Union, which consists of a market of approximately 450 million consumers. The countries of the European Union together constitute the biggest economy in the world. This explains why registration of a European Union Trademark (EUTM) is very attractive to most trademark proprietors.
Austria
Belgium
Bulgaria
Croatia
Republic of Cyprus
Czech Republic
Denmark
Estonia
Finland
France
Germany
Greece
Hungary
Ireland
Italy
Latvia
Lithuania
Luxembourg
Malta
Netherlands
Poland
Portugal
Romania
Slovakia
Slovenia
Spain
Sweden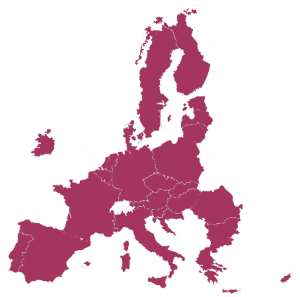 UNITARY CHARACTER
A European Union trademark has a unitary character. This means that it can only be registered, assigned or revoked in respect of the entire Union. 
Oppositions can however be filed based on prior trademarks which are registered in one of the Member States. There is therefore an increased risk that oppositions (objections) may be filed against an application for an EUTM. Our EU-SMARTSCAN search will give you a reliable impression whether your proposed trademark is available for registration in the EU. Read more about this clearance search HERE.
REGISTRATION PROCEDURE
An EUTM application can be filed at the European Union Intellectual Property Office (EUIPO) in Alicante (Spain).
The registration procedure of an EUTM consists of the following stages
Examination on formalities

Examination on absolute grounds – whether the trademark is descriptive or laudatory for the goods or services covered

Publication for opposition purposes – during a period of 3 months, proprietors of similar prior trademarks can oppose (object) to registration of the application

Registration – the registration certificate is issued (only electronically) if no opposition is filed 
The whole procedure takes 5-6 months in case no oppositions are filed or objections are made by EUIPO.